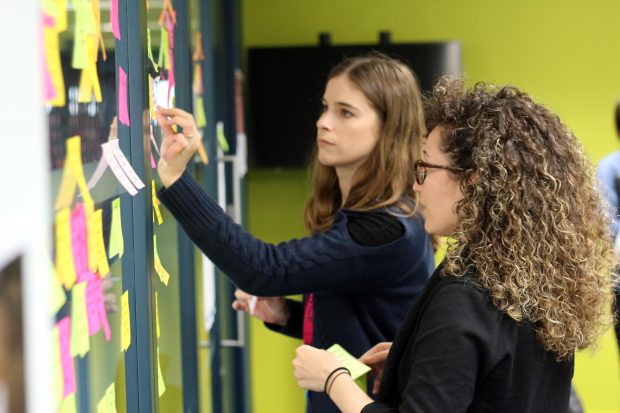 We recently published a blog post about scoping how to improve the starting and sustaining a business whole user journey. We explained how we tackled working in this complicated area, and detailed our approach. It's best to take a read of that blog post before reading this one!
At GOV.UK we're working on whole user journeys as we believe users shouldn't need to understand how government works to find the information they need, when they need it. Whole user journeys describe complex policy areas that cut across multiple government departments and are usually related to a life event, like starting a business.
For big topic areas, like starting and sustaining a business, there's a lot of information on GOV.UK, and we wanted to see how we could improve it. We want to use our approach for other complex topic areas that cross departmental boundaries, so we're sharing the lessons we've learned here.
1. Start somewhere! Have a view of the wider picture but deliberately narrow the focus
Deciding what to focus on as a team in such a broad space is hard, especially when it involves multiple non-linear journeys across different departments. But this is key to the success of the project. You have to deliberately choose a lens through which to view the work, and tackle things one by one.
We found using existing 'step by step' guides on GOV.UK a helpful starting point. They existed in the initial stage of starting a business, for example setting up a limited company. We could use them to create a service landscape map.
However, in the sustaining and running a business stage there were no existing step by steps because the journey is dependent on circumstances that are specific to different businesses. To map our service landscape we proposed different lenses through which the work could be viewed. For example different user mindsets such as "business as usual" or proposed user journeys like a specific export journey.
2. Working in a multidisciplinary team allowed us to take an holistic approach
We were set up as a multidisciplinary agile team with job roles like product manager, service designer, performance analyst, and so on, all working together.
Having a mix of skill sets allowed us to investigate a complex area and challenging user-centered design and technical problems, engage with departments in government, and create ideas to prototype and test to improve the user experience on GOV.UK.
Due to the experience of the team, we were able to work well and highly collaboratively, despite the uncertainty that comes from working in a very broad service that cuts across multiple departments. We also had access to other specialisms within the programme such as data scientists and social researchers, and resources such as academic materials.
3. Reach out to existing cross-government communities and groups
We have also been working with the cross-government Start a Business service community. Service communities are networks of people who work together to design and deliver an end-to-end service. We reached out to existing cross-government communities and groups to share our work through show and tells, and also shared our prototype and design ideas to get feedback.
This helped give us access to various departments working in the user journey - people connected to end users, the policy space and the challenges within. All our work here helped us identify the broader set of people working in the area, and let us speak with them.
4. Being clear on roles and accountability
While GDS is not the owner of this specific policy area, we believed that the GOV.UK team's central position in government could help facilitate a joined-up approach to a whole user journey. We want to work with departments to understand user pain points and opportunities to join up the user journey across organisational boundaries. With departments acting as subject matter experts, we can act as enablers, providing standards, tools, insights and digital, data and technology (DDaT) capability.
Often, no one department is responsible for a whole user journey which can make it tricky to determine accountability. We're working on different governance models that would allow a clear view of roles and responsibilities across government when working on whole user journeys.
5. Validate your findings in multiple ways
We increased confidence in our approach by validating our findings in multiple ways. For example, we kept our work user-focused and data-driven through conducting our own user research, reaching out to departments to share research, and using data visualisation techniques to help map a user's journey.
By speaking to an existing cross-government community such as the Start a Business service community and sharing our work, we could help test our thinking especially in the earlier stages.
It was important to keep validating our thinking and findings, as we were working in such a large policy space we continuously needed to capture assumptions and validate them through evidence and work with departments.
We want to use our work to help improve other complex journeys for users, so please subscribe to the blog to make sure you keep up to date with all our work in this area.