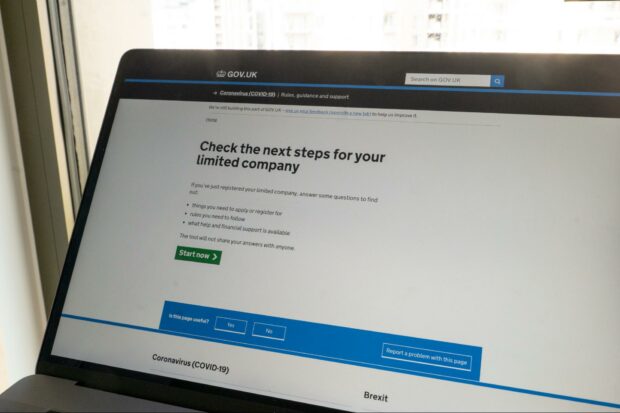 A team at GOV.UK has been working on how to improve "whole user journeys". By this, we mean complex tasks that involve multiple government departments and are usually a significant moment in a person's life.
The first whole user journey we looked at was starting and sustaining a business. We wanted to understand the process, and find opportunities to make it better - and then use this work to help improve other whole user journeys.
Our work led to us building a prototype tool to help people understand the next steps their business needs to take. This launched on GOV.UK in May for people who had newly registered companies with Companies House.
This blog post shows the different ideas we tested, and how we came to create the prototype.
Scoping the whole user journey
We decided to start with this specific user journey because improving how UK businesses can operate is a key government priority. Whole user journeys cut across multiple departments. Starting and sustaining a business is no different. During the process, people are likely to interact with more than 10 different government organisations.
At the Government Digital Service (GDS), we think that users should not need to first understand how government is structured to be able to work where to go for guidance and services. People should be able to find out what they need to know easily and simply.
So, our first step was to scope the whole user journey to develop a clear picture of this space and which departments were involved. We then wanted to test some ways we could improve the user experience.
Testing a hub page
Our user research gave us a good understanding of the user needs we wanted to meet. We identified 2 challenges to explore:
how might we help people orientate and navigate the 'starting a business' service space?
how might we help people know what to do next for their business after they've registered their business?
The first idea we researched to help with these challenges was to create a hub page. Hub pages are navigation and landing pages created for priority topics. We wanted to draw on the success of a similar approach to share coronavirus (COVID-19) related information, where our hub pages, for instance for business and education, were very effective at navigating users to content. For example, on the COVID-19 education hub, when we added 2 'top tasks' we increased referral traffic to these pages from the hub by 1,000% and 2,000%.
We thought this approach could be particularly helpful for people thinking about starting a business, so that they could make informed decisions before starting.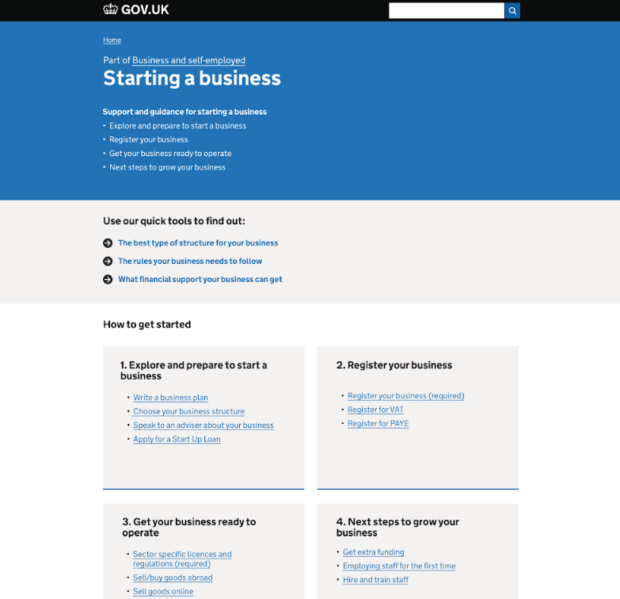 We tested prototypes of this idea with users and the overall proposition tested well. The tool helped users find relevant content more easily, including content that people otherwise would not have known about. Users often remarked that this was the type of tool they'd hoped to see previously, but weren't able to find.
However, we also came across challenges. These included:
how to determine what is included and what is prioritised in terms of the content
the governance over time required to keep it up-to-date and as useful as possible
We also knew that other work was happening on GOV.UK to improve navigation and browsing which could allow us to use a platform-wide capability, without having to develop a bespoke approach.
Our user research showed that people's perceptions of relevance are really important to any navigation experience. If you show people material that doesn't seem relevant, they quickly disengage with the content. This is a challenge if you're trying to help people understand an overall service landscape!
The ideal solution would be to provide this broad view in a way that is somehow tailored to a business's particular circumstances. The combination of these challenges, our user research findings, and GOV.UK's ongoing work on navigation led us to the second idea we explored.
Testing personalised next steps
We tested how we might suggest a personalised set of next steps for a business owner to take after registration with Companies House. This was based on our user research finding that users were often not aware of which important actions they needed to take - like getting licenses or registering for VAT - or the sources of support available to them.
We tested a personalised 'next steps for your business' page to help us better meet this need. Users answered a quick series of questions to describe their circumstances, and were given a suggested set of actions to take. This helped people find the relevant information and services, without requiring any existing knowledge on specific business support or services.
This would transform the current process by joining up a user's journey from the post-registration email from Companies House into a more proactive and responsive experience that addresses their specific circumstances.
Based on this user research, we decided to put the personalised set of next steps live for testing on GOV.UK for a limited user group - people who had newly registered companies with Companies House.
The live prototype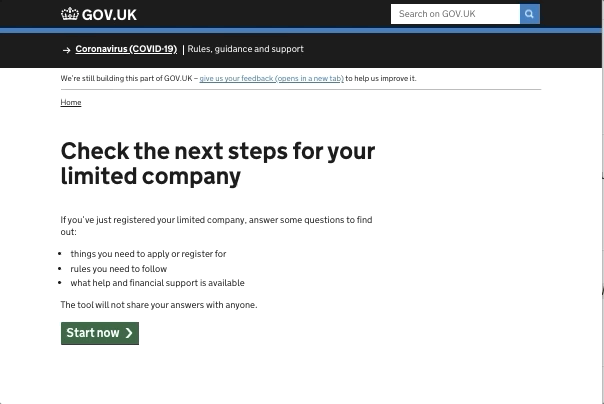 The product went live on 13 May. We will be doing regular user testing and performance analysis to see how it performs, increasing visibility as our confidence in its usefulness increases.
We will also be looking to return to our thinking on the 'hub' idea, which will let us explore the routes into offering a tool that shows all the support in one place.
Using our work to improve other whole user journeys
If what we built proves its value to people in the real world - and not just in our user testing lab and user research - this is important for us realising our vision for GOV.UK: to provide a trusted, joined-up and personalised service for our users. This 'starting a business' work would:
provide joined-up interactions on GOV.UK through recommended next steps or relevant services
make these services quicker and easier to complete by offering people the ability to share their data, with their consent, across different services that increases the level of personalisation which we can offer
inform improvements to the whole user journey through the insights we generate into service performance, and we could also use this to inform policy improvements
This work also directly supports mission 2 of the GDS strategy for 2021 to 2024: Joined-up services that solve whole problems and span multiple departments.
We will continue to share what we're learning, and will talk about how we hope to use what we've learnt working on this 'whole user journey' to work on others. Please subscribe to Inside GOV.UK to keep up to date with our work.